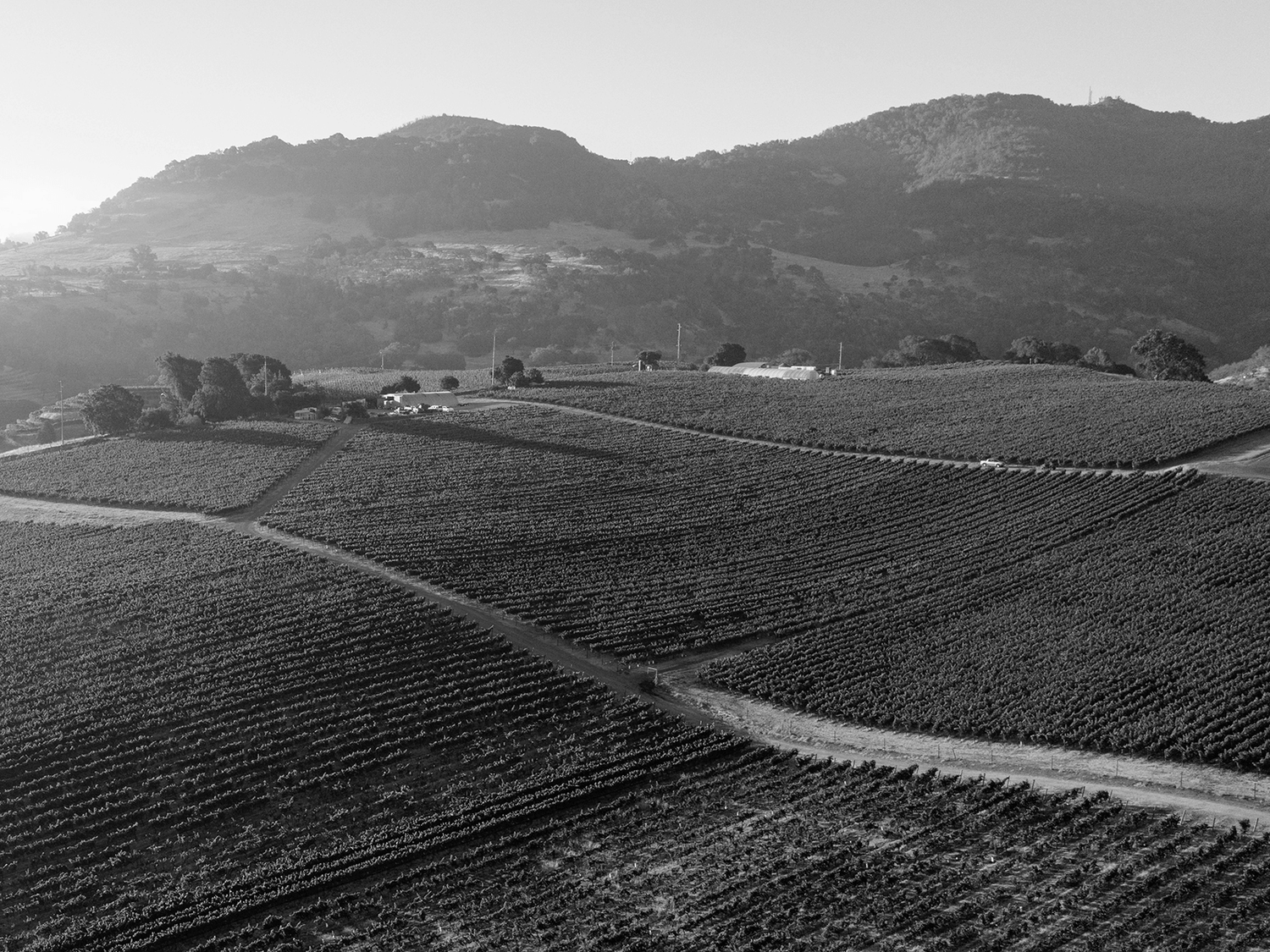 Terroir
Situated 600 feet above the valley floor in Napa Valley's southernmost appellation is our 123-acre estate, composed of steep hillsides, rolling oak meadows and rows of grapevines framed by mountain ranges on either side. This is our home. It is a spectacular place to view the world and an exceptional place to grow Bordeaux wine varieties. Our proximity to San Pablo Bay and geographical location inside an ancient volcanic caldera create the coolest ambient temperatures and the longest growing season in Napa Valley. The volcanic soils, where our roots grow deep, impart distinctive minerality and undeniable character to our wines.
As they say, great wine starts in the vineyard. In this case, it couldn't be more true.
This crazy-ass geological formation gives us, quite literally, the perfect weather to ripen Bordeaux grape varieties….
The Coombsville Caldera
Coombsville is a distinctive appellation defined by an unusual geological formation called a caldera. The Coombsville caldera is a crescent shaped ridge that creates a half bowl formation. It was formed approximately 8 million years ago during the height of Napa Valley's volcanic activity and is essentially a volcanic vent, half of which collapsed a few million years later which creates the iconic crescent shaped formation you see today. This formation is particularly useful for our vineyards, as its perfect half-bowl shape collects the cool marine air that drifts in from the San Pablo Bay and allows our vines to slowly ripen over a longer period of time. If hang time means anything, we've got the holy grail here, and we have the caldera to thank.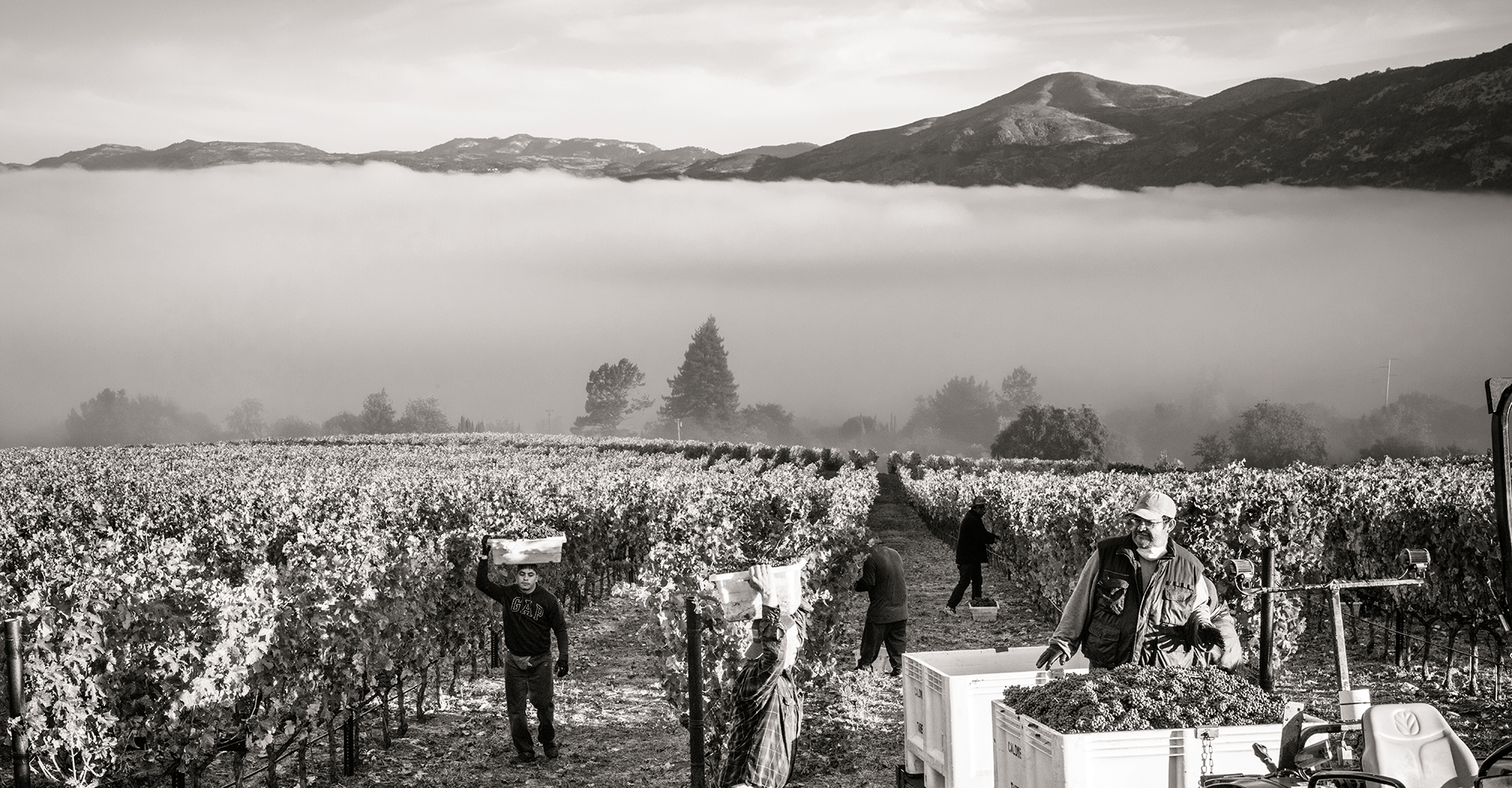 The Caldwell cave, all 20,000 underground feet of it, is dug into solidified ash that was formed during the last major volcanic eruption. You can see all the layers when you're inside our tasting room. 
A visit to the Caldwell cave offers a showcase of the various geological marvels. As you drive down to the winery parking lot, you'll be travelling along a road carved into the rounded mountainside where you're able to see all manner of rock formations and shades of white, gray and red colors which are made by layers upon layers of igneous and sedimentary rock laid down over hundreds of thousands of years, and interspersed with unusually round stones called scoria. The combination of the view above ground and below, is a beautiful sight to behold as you travel back into geological time, and provides a real feel  for the incredible, well drained soils that are the canvas for growing exceptional wine grapes.
Volcanos and Napa Valley
Northern California sits on three tectonic plates that come together in a spot known as the Mendocino Triple Junction. Currently the Pacific plate is subducting, while the Western plate is moving parallel to the coast of North America. As the plates move, they create a void or space in the earth's crust, which makes the magma below begin to well up into a magma chamber. When the pressure in the magma chamber exceeds the holding capacity of the rock above it, it's forced up and out, causing what we know as a volcanic eruption.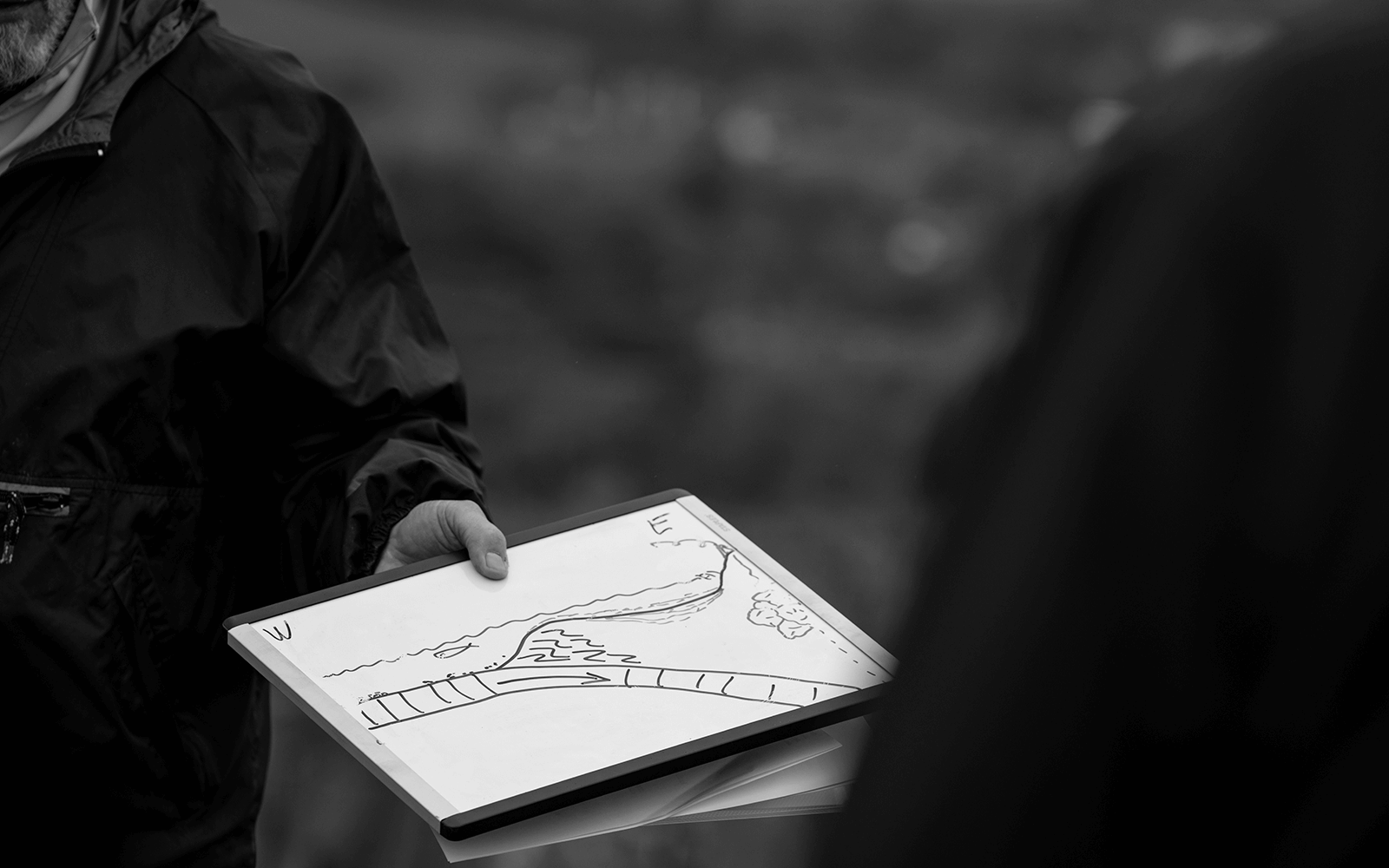 Around eight million years ago, the tectonic plate movement responsible for the formation of the San Andreas fault moved northward into what is now Napa Valley. This northward movement created a period of volcanic activity that lasted for about five million years, until all volcanism in Napa came to a halt two or three million years ago. (The Clear Lake region is now the site of the fault's volcanic activity, but it's currently dormant.) During the active period in Napa, a number of volcanic vents formed, including one in the area that's now recognized as the Coombsville AVA. Debris from this vent created what we now call Mount George.
During the time of activity, a number of volcanic vents formed. What's now designated as the Coombsville AVA was the site of one of these vents, the debris from which created what we now call Mt. George. Many people believe Mt. George was an active volcano, however extensive research has shown that it's actually just a mound of debris from the Coombsville vent.
There are at least two other vents that we know of in Napa Valley, the first of which formed Mt. St Helena. Contrary to popular belief, the mountain that we see today wasn't the actual volcano, but is rather a debris pile, which was formed from the lateral (sideways) blast of a nearby eruption. You'll see some proof of this when you drive out to the Petrified Forest and note that all the petrified trees were blown down in an east/west pattern, indicating that the lateral blast blew them down and left them to petrify under the debris. The other vent is located under Stags Leap Wine Cellars and was discovered, as a mass of congealed magma from the neck of the extinct volcano vent, when they were digging their cave.
Watch The Coombsville Map Panel Discussion

The discussion, which examined the past, present, and future of Coombsville, was moderated by Lauren Ackerman and featured an illustrious group composed of John Caldwell, Tom Farella, Paul Hobbs, Alison Rodriguez, and Harvest Duhig. Antonio Galloni, the founder of Vinuos and creator of the AVA's new vineyard map, also joined the group for the fascinating conversation.

Watch Now

An Interview with John Caldwell and Deborah Pass by Lucie Morton.

Lucie Morton is an independent viticulturist based in Virginia. She is an internationally recognized author, ampelographer, lecturer, consultant, research collaborator and, most recently, film producer. Her higher education took place in Europe while her practical education began as a vineyard manager on the family farm in Virginia, along the banks of the Potomac River.

Read More

Videos from David Howell's Geology Class

David Howell recently joined us at Caldwell Vineyard to discuss the impact of the geology of the Coombsville Caldera on our wine.

David G. Howell is a Fellow of the American Association for the Advancement of Science and the Geological Society of America. He has been working with Napa Valley vintners for more than twenty-five years and is the co-author of The Winemaker's Dance: Exploring Terroir in the Napa Valley.

Watch Now
Formation of a Caldera
When an active volcano dies (because the plates continue to move underneath it), the heat source shifts, the magma chamber empties, and the surrounding debris consisting of ash and volcanic rock collapses inward under its own weight. This resulting circular or semi-circular formation is called a caldera.
Geologists have measured the specific gravity in and around the area of the Coombsville Caldera and then modeled it, revealing the circular rock formations below the earth's surface. This geophysical signature is that of a collapsed caldera, which dates back about 3-5 million years. It appears that the neck of the volcano was about half a mile wide. At the time, sea level was about 300 feet lower than it is now, so what is now the Napa River would have been a much larger body of water, and washed significant amounts of debris into what is now the San Pablo Bay.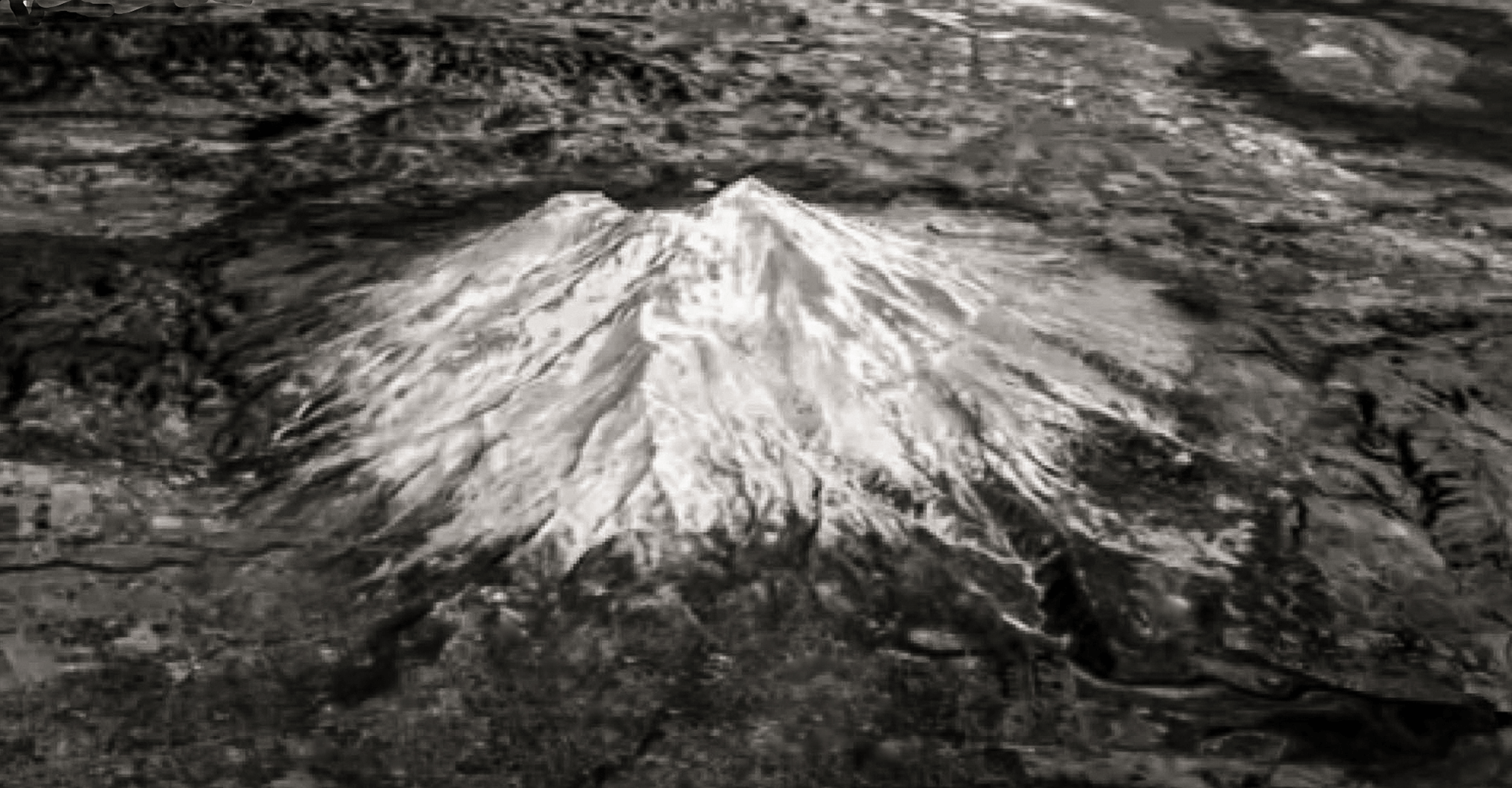 Coombsville, AVA
Napa Valley is itself an American Viticultural Area (AVA), as recognized with its own designation by the United States federal government in 1981. It is California's first recognized AVA and the second in the United States. Within the Napa Valley AVA exists 16 "nested" or sub-appellations including: Atlas Peak, Calistoga, Chiles Valley, Coombsville, Diamond Mountain District, Howell Mountain, Los Carneros, Mt. Veeder, Oak Knoll District of Napa Valley, Oakville, Rutherford, St. Helena, Spring Mountain District, Stags Leap District, Yountville and Wild Horse Valley. Each of these areas has a defined connection with specific terroir based on notable differences in soil, climate and terrain, which create unique and distinctive wines from each specific area. 
The distinction of each area is what has led Napa Valley's landowners to, over the years, petition the government to create each of the subsequent 16 AVAs. Coombsville was the last, and they say, the final to be awarded the status.
So how'd it come about?
As the story goes… somewhere around 1914, what was an unincorporated area of Napa County known for dairy cattle became known as Coombsville – named after Nathan Coombs, the founder of the City of Napa. At the time, Mr. Coombs owned 2,525 acres of land to the east of the Napa River, and Coombsville Road was just an unnamed path, even though it had been around for more than 120 years already.
Old county records and newspaper articles tell us that an Italian immigrant named Antonio Carbone established Coombsville's first winery in the 1880s. Antonio had arrived in Napa in 1870 at age 18, following his older brothers Lorenzo and Nicola—the first Italian immigrants to Napa (wow). Antonio's 1889 house is still standing today at 2031 Coombsville Road.
According to wine historians (yes, that's actually a thing), Antonio had about 40 acres of vineyard planted with Zinfandel, Mataro and Burger. Phylloxera hit him hard, and he was down to 20 acres by 1895, but still shipping "three or four carloads" of wine out every month. Prohibition eventually shut him down for good in the 1920s, and no wine was made there until Augustin Huneeus brought it back to life for the Faust winery. Our friends Annie Favia and her husband Andy Erickson have since taken this historic property over and are doing amazing things with the land (she makes herbal tea under the brand Erba, and he of course, makes wine for the Favia label, as well as a roster of other incredible Napa wineries. The history of the property offers them bragging rights for being both the oldest and the newest winery in Coombsville. 
But making wine in an obtusely outlined part of town isn't the same thing as making wine in a designated AVA. We have Tom Farella to thank for gettin' the Coombsville appellation officially recognized by the feds. Tom was the guy who picked Aaron Pott's "Tulocay" AVA petition up off the floor after the TTB (Tobacco, Tax and Trade Bureau) yanked it from consideration. Aaron's climate and soil science were deemed good to go—meaning he had successfully shown clear geologic, soil and climatic differences for this region—but the name was a non-starter. Nobody'd ever called our area Tulocay. And if the TTB had approved an AVA called Tulocay, Bill Cadman of Tulocay Winery would've had to quit using the business name he'd used since 1974 on all the wines he makes from other regions. And that's not fair. Even TTB wouldn't touch it. Luckily Tom was willing to rewrite the petition to TTB suggesting a name that actually matched what people have called the area for more than 100 years, and that didn't mess with anybody's brand names. Bingo. The TTB approved the Coombsville AVA lickety split (two years later). Coombsville became an AVA in 2011.
When Tom Farella took inventory of the vineyard holdings back in 2009, as part of the application to become a recognized AVA, he found 120 different vineyards. That number changes as family wineries are bought and sold, and brands go in and out of business… but suffice it to say, we've got a lot of great vineyards and some of the best wines in Napa to showcase our appellation. Just ask the experts.
You have completely changed my mind on Coomsbsville.
— Karen MacNeil
Karen Macneil on Coombsville
There are few people in the world of wine that hold as much sway as Karen MacNeil. A Napa native for 20 years, and the author of The Wine Bible—the single best-selling wine book in the country—it seemed hard to believe we'd never met before. So when we found ourselves with the chance to host her, and a handful of our Coombsville colleagues for a tasting back in 2018, we knew it was a little piece of history in the making. 
Karen had reached out with an interest in learning more about Coombville, the 16th AVA (American Viticultural Area) designated in Napa Valley, so we were happy to bring together a group of friends and colleagues – the Coombsville braintrust – to help shed some light on what makes our neck of the woods, and the wines we make here, so damn special. 
We were joined by Tom Farella of Farella Vineyard who, among other serious accomplishments, was the guy that spearheaded the AVA petition that ultimately designated Coombsville as its own region within Napa Valley; Ken Bernards, Co-Owner and Winemaker of Ancien Wines, who works with the oldest continuously farmed vineyard in Coombsville; Tracey Reichow, Owner and Winemaker of Black Cat Vineyards, Founder of the Coombsville Vintners & Growers Association, and self-proclaimed Coombsville Syrah evangelist; Julien Fayard from Covert (featured in our last Chronicle), who's brought some modern French finesse and polish to our rough and tumble neighborhood; and of course our very own winemaker -- the guy who delivers on our vineyards' promise year after year. Obviously they all brought wine to share alongside their experiences, so Karen could taste what we were talking about.
Our conversations roamed all over the place, from hydrothermagraphs and the oral history of Nathan Coombs (our region's namesake) to volcanic ash deposits, micro-climates, and the signature texture of Coombsville's wines. It was an incredible day with equal parts stories, science, opinion and comradery. You put that many grape growers in a room and it's amazing what you can learn. We talked hang time, and the way Coombsville's big diurnal shifts and unique soil composition let our grapes ripen all the way without losing their acidity—the secret to capturing a site's perfect natural balance of fruit, structure, and freshness.